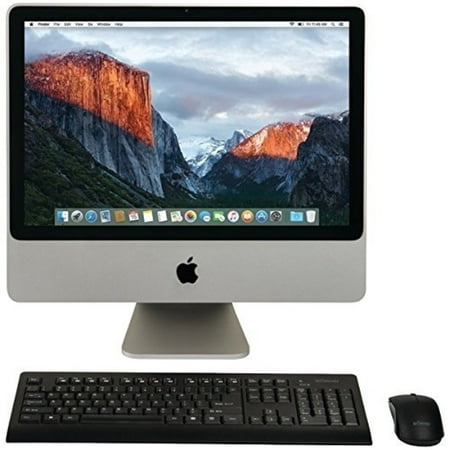 Apple iMac 20″ 2.4GHz Core 2 Duo 1GB Ram 250GB HD (Aluminum) – MB323LL/A (Manufacturer Refurbished)
The 20″ iMac with 2.4GHz Intel Core 2 Duo CPU from Appleis a sleek all-in-one computer that has been designed to meet the needsof video professionals, graphic designers, families, educators, andbusinesspeople. A venerable jack-of-all trades, and master of all, the iMac is just at home in a professional environment as it is as in your home as the family computer.
The iMac sports a sleek aluminum andglass industrial design, with a matching slimline aluminum keyboard. Thebuilt-in iSight camera hides discreetly above the LCD screen, givingyou ready access to a webcam for Internet chat and conferencing. Theincluded iChat and Photo Booth applications allow you to chat online andtake fun self-portraits with the camera.
The computer is poweredby a 2.4GHz Intel Core 2 Duo processor for superior performance. Itboasts 1GB of RAM, a 250GB hard drive, Bluetooth 2.1+EDR, AirportExtreme Wi-Fi, integrated speakers, and the SuperDrive DVD burner. Theglossy 20″ widescreen display is powered by ATI Radeon HD 2400 XTgraphics with 128MB of GDDR3 memory.
The iMac is a strikingly elegant computer that will feel at home on virtually any desk.
Intel Core 2 Duo processor delivers superior performance
Innovative design houses the entire computer system within a widescreen display
Slimline Non Apple Wireless keyboard with numeric keypad and None Apple Wireless Mouse are bundled with the computer
iSight camera and microphone make video conferencing a reality
ATI Radeon HD 2400 XT feature 128MB of GDDR3 VRAM, equally useful for working with digital photographs and playing snazzy computer games
Mac OS X 10.5 Leopard includes iTunes, Time Machine, Front Row, iChat, Safari, and more
The included iLife '09 suite includes the popular iPhoto, iMovie, iDVD, iWeb, and GarageBand programs
Front Row gives you access to all your media from a single application
Includes Boot Camp, which allows users with a licensed copy of Windows to use it alongside OS X in a dual boot configuration, perfect for anyone who needs to use a Windows-only application on the computer
FireWire-400 and USB 2.0 interfaces for device connectivity
Recyclable components, free of harmful toxins, and an energy efficient design make this iMac an extremely "green" computer
 ​​
iMac: Apple iMac 20″ 2.4GHz Core 2 Duo 1GB Ram 250GB HD (Aluminum) – MB323LL/A (Manufacturer Refurbished)
---
Apple iMac 20″ 2.4GHz Core 2 Duo 1GB Ram 250GB HD (Aluminum) – MB323LL/A (Manufacturer Refurbished) Price: $299.99
| | | |
| --- | --- | --- |